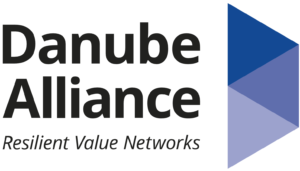 Danube Alliance sprang to life to strengthen the competitiveness of SMEs in the Danube region with a goal to increase the resilience of the supply chains. The new flagship project of Priority Area 8 of the European Danube Region strategy (EUSDR) will built on the intelligent services and sustainable supply chains based on the experience and knowledge from other Danube projects, namely GoDanuBio and DanuBioValNet.
The Alliance was formed as a response to the still-going Covid pandemic situation, which revealed the economy's weak points. Global value chains showed to be vulnerable in extreme situations, not being able to function effectively when the suppliers were compromised due to the pandemic lockdowns, geopolitical conflicts, extreme weather, and other events.
The project was presented on the 3rd EU Macro-regional Strategies (MRS) Week, the biggest Brussels-based event dedicated to connect key stakeholders from the Ministries of four MRS (EUSBSR, EUSDR, EUSAIR, EUSALP), representatives of EU institutions, research and academia, various sectors, civil society organisation and citizens. The project is funded by the Baden-Württemberg Ministry of State and the Baden-Württemberg Ministry of Economic Affairs, Labour and Tourism.
Multi-Method Approach

Value chain disruptions are now very commonplace due to current and recent events and they seem to be getting worse. Therefore, active risk management for value chains is essential. Value chains should not grow organically, but should be actively managed. This is why the Danube Alliance focuses on understanding, analysing and resilience promotion of selected (bioeconomic) value chains in the Danube region to support SMEs' inclusion into more sustainable and resilient value chains. These goals shall be achieved by using a multi-method approach (s. figure on the right), based on Accenture's 3-steps to safeguard supply chains*.
Step 1 – Sense: In the beginning, a certain use case for a value chain with potential in the Danube region will be selected. It is important then to get a feel for the selected value chain and to understand the entire chain. By involving experts from industry or research, main features and also social and ecological aspects will be identified and modelled in a collaborative manner.
Step 2 – Analyse & Predict: Next, in-depth analysis of the value chain is necessary to identify possible neuralgic points and to pave the way for specific measures to increase resilience. For this purpose, refining and enriching the existing value chain model with further information and data along the value chain (e.g. key actors, costs, harvesting volume, storage capacities, production outputs, prices etc.) is crucial to better assess the effects of disruptive factors and corresponding countermeasures. The data-based model is the basis for the simulation of value chain input-output-scenarios.
Step 3 – Act & Adapt: In order to make the value chain more resilient in the long term, the data-based value chain scenarios need to be discussed with regional stakeholders in relevant, or interested, Danube sub-regions and jointly reflected upon regional framework conditions and needs. This is required to develop need-based implementation strategies and to create digital solutions together with regional SMEs in order to improve a resilient value chain development.
*Source:
3 steps to safeguard the supply chain https://www.accenture.com/us-en/blogs/accenture-utilities-blog/safeguarding-supply-chain