On November 14 and 15, a delegation of members of PA 8 Steering Group joined the programme of the GlobalConnect Fair and Congress.
Throughout the day, business contacts were made with numerous institutions and PA 8 initiatives.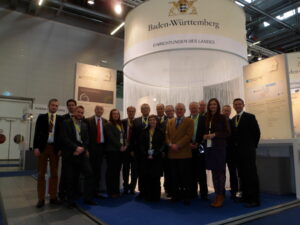 A special focus in the framework of the congress "Countries and Markets" was on the EUSDR and business opportunities in the Danube Region. The workshop was held by PAC 8 team in cooperation with the Ulm Chamber of Commerce.
Presentations:
Priority Area 8 in Baden-Wuerttemberg
Business Opportunities in the Danube Region
Participating institutions:
Budapest Chamber of Commerce and Industry / Working Group "Vocational Training"
Steinebeis-Danube-Centre Stuttgart / WG "Innovation & Technology Transfer"
TMG Upper Austria / Working Group "Clusters of Excellence"
South-East Europe Competence Centre, Ulm Chamber of Commerce
Another highlight was the evening reception and the GlobalConnect Award ceremony with Minister Dr. Nils Schmid, Minister of Finance and Economy of Baden-Wuerttemberg.